Young Living Starter Kits OG
You can purchase Young Living products at full retail, or similar to a Costco membership, you can enroll as a member and then have a full year of access at 24% off retail list price!

Would you like to know what's really cool? Sticking with the Costco analogy, when you pay your membership fee with Young Living, you actually get to choose a product starter kit! So instead of paying for membership, you're actually purchasing a generous product kit that will get you started out right!

Check out the most popular Young Living starter kits below. If you have any questions, simply use the form at the bottom of the page to get in touch!
Premium Starter Kit
Enroll with the ultimate Young Living product and business experience! An extraordinary value that offers a comprehensive introduction to the power of essential oils, the Premium Starter Kit is the perfect option for those who are serious about transforming their lives. PSK with Dewdrop Diffuser (#26666) $165
PSK with Desert Mist Diffuser (#26669) $165
PSK with Rainstone Diffuser (#26655) $210
PSK with Aria Diffuser (#26656) $265
Starter Kit Includes:
Valor® 5 ml, Peace & Calming® 5 ml, Lavender 5-ml, Peppermint Vitality™ 5-ml, Lemon Vitality™ 5-ml, Frankincense 5-ml, Thieves® Vitality™ 5-ml, Citrus Fresh Vitality™ 5 ml, Raven™ 5-ml, DiGize™ Vitality™ 5-ml, PanAway® 5-ml, Stress Away™ 5-ml, 10 Thieves® Waterless Hand Sanitizer Sachets - 0.1 oz. ea., extra AromaGlide Roller Fitment, Thieves Household Cleaner 1-oz. sample, 2 NingXia Red® 2-oz. samples. Young Living Lifestyle Booklet, Product Guide and Product Price List and tray/display insert.
Price: $165.00 USD
Welcome Home Starter Kit
Ready to dive into essential oils but not sure where to start? Our advice: Begin with the basics! The Welcome Home Starter Kit has everything you need to infuse your home—and your life—with the power of pure essential oils. Packed with our most popular oils, this kit is a simple way to sample what life is like with Young Living!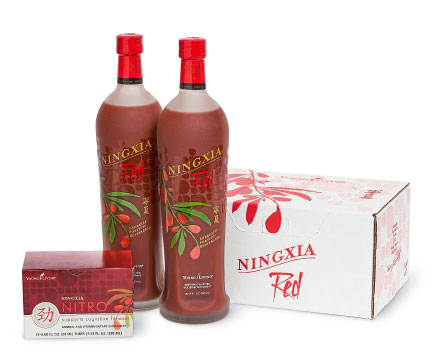 NingXia Kit
Power your life with a delicious blend of nutrient-rich wolfberry puree, superfruit juices, and pure essential oils. Formulated to support wellness for every lifestyle, NingXia Red® is a unique, powerful drink that will help you make the most of every day. This Starter Kit includes favorite NingXia Red products, including our top-selling cognitive fitness booster, NingXia Nitro™!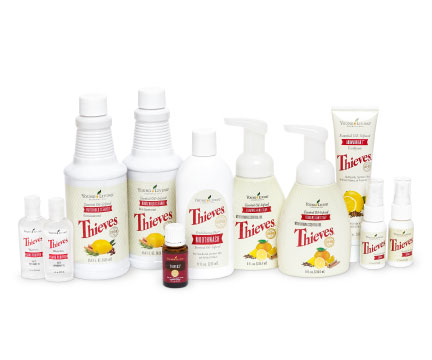 Thieves® Kit
Young Living is proud to offer a complete line of home and personal care products infused with the pleasant, spicy aroma of our proprietary Thieves® essential oil blend! This Starter Kit is ideal for those wishing to replace harmful chemicals in the home with powerful, natural alternatives.
Starter Kit Includes:
Thieves Essential Oil 15-ml, Thieves AromaBright™ Toothpaste, Thieves Fresh Essence Plus Mouthwash, 2 Thieves Household Cleaner bottles 14 fl oz, 2 Thieves Foaming Hand Soaps, 2 Thieves Spray bottles, 2 Thieves Waterless Hand Sanitizer bottles 3 fl oz, Essential Oil Magazine.
Price: $125.00 USD
CBD Premium Starter Kit
Discover what CBD can do for you! Our CBD Premium Starter Kits are available in two strengths, so you can pick the potency that meets your needs. Each kit contains a selection of Nature's Ultra favorites—the only CBD products on earth to contain Young Living essential oils and be backed by a Seed to Seal® quality commitment. By combining pure essential oils with 0.0% THC CBD, these introductory collections give you the best that nature has to offer. Get ready to transform your life with botanically based CBD solutions today!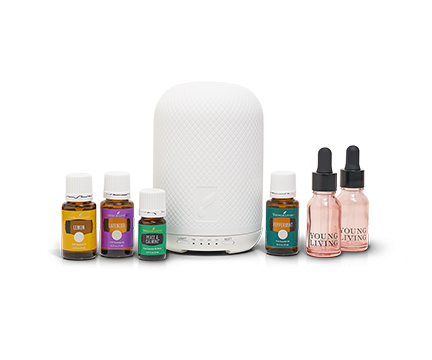 LIMITED TIME ONLY Haven Starter Bundle
Elevate any space with the Haven Starter Bundle featuring our Haven Diffuser and four essential oil favorites. Diffuse a few drops of Lemon and Peppermint when you first wake up for a fresh start to your day or surround your family in the soothing scents of Lavender and Peace & Calming® before settling down for the night. You can also create your own custom diffuser blends with the two glass dropper bottles included in the bundle. This bundle is a limited time offer during the month of March.
Little Oilers Premium Starter Kit
Discover all our kid-friendly essential oil blends paired with the custom-designed 'Feather the Owl' ultrasonic diffuser. An extraordinary value that offers a comprehensive introduction to the power of KidScents essential oils, the Little Oilers Starter Bundle is the perfect option for families of small children. Enjoy peace of mind knowing each KidScents essential oil is created with little ones in mind and has been pre-diluted for topical use.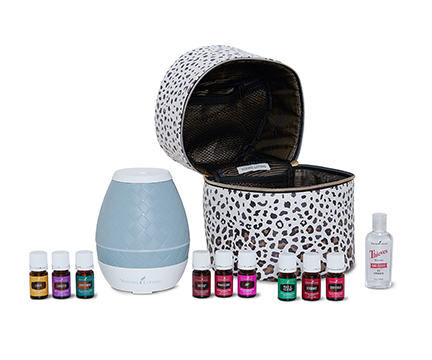 LIMITED TIME ONLY Holiday Starter Bundle
Soak up the good vibes this season while surrounded by loved ones. The Holiday Starter Bundle contains all the wintry essentials you need: the Sweet Aroma Diffuser, nine top-selling oils, and our coveted Thieves Waterless Hand Sanitizer, all conveniently packaged in a chic leopard print zippered carrying case. Available to new and reactivating enrollees while supplies last, this exclusive starter bundle will get you in a holiday party kind of mood anytime, anywhere.
Holiday Starter Bundle Includes:
Sweet Aroma Diffuser, Leopard Print Carrying Case, Thieves Waterless Hand Sanitizer 1-oz, Lemon Essential Oil 5-ml, Peppermint Essential Oil 5-ml, Frankincense Essential Oil 5-ml, Thieves Essential Oil 5-ml, Joy Essential Oil 5-ml, Lavender Essential Oil 5-ml, Bergamot Essential Oil 5-ml, Grapefruit Essential Oil 5-ml.
Price: $150.00 USD
YL #1467324